Compass. Industrielles Jahrbuch 1930: Jugoslawien, Ungarn. - Page 813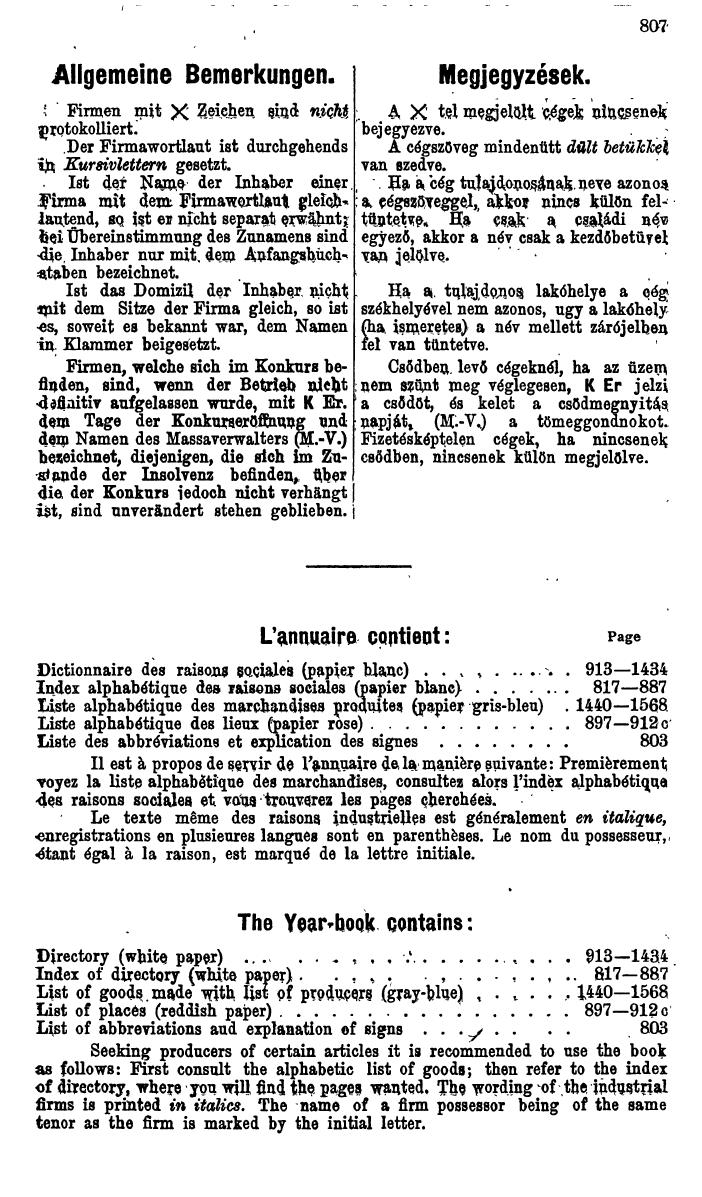 Book title
Compass. Industrielles Jahrbuch 1930: Jugoslawien, Ungarn.
Book description
Informationen zu Industrie-, Handels- und Exportunternehmen aus Jugoslawien und Ungarn nach 16 Hauptbranchen sowie orts- und namensalphabetisch geordnet.
Consecutive pagination
813
Category
Table of contents
URN
urn:nbn:at:at-compass:zedhia-cpa_000239-6/fragment/virtuelleURNseite=cpa_000239-813
Content
807 Allgemeine Bemerkungen, j Firmen mit X Zeichen sind nicht protokolliert. Der Firmawortlaut ist durchgehends in Kursivlettern gesetzt. Ist der Name der Inhaber einer Firma mit dem Firmawortlaut gleichlautend, so ist er nicht separat erwähnt; bei Übereinstimmung des Zunamens sind die Inhaber nur mit dem Anfangsbuchstaben bezeichnet. Ist das Domizil der Inhaber nicht mit dem Sitze der Firma gleich, so ist es, soweit es bekannt war, dem Namen in Klammer beigesetzt. Firmen, welche sich im Konkurs befinden, sind, wenn der Betrieb nicht 4afiaitiv aufgelassen wurde, mit K Br. dem Tage der Konkurseröffnung und dem Namen des Massaverwalters (M.-V.) bezeichnet, diejenigen, die sich im Zu-siande der Insolvenz befinden, über1 die der Konkurs jedoch nicht verhängt | ist, sind unverändert stehen geblieben, j Megjegyzések. A X tel megjelölt cégek nincsenek bejegyezve. A cégszöveg mindenütt dűlt betűkkel. van szedve. Ha a cég tulajdonosának neve azonos a cégszöveggel, akkor nincs külön feltüntetve. Ha csak a családi név egyező, akkor a név csak a kezdőbetűvel van jelölve. Ha a tulajdonos lakóhelye a oég székhelyével nem azonos, úgy a lakóhely (ha ismeretes) a név mellett zárójelben fel van tüntetve. Csődben levő cégeknél, ha az üzem nem szűnt meg véglegesen, K Er jelzi a csődöt, és kelet a csödmegnyitás napját, (M.-V.) a tömeggondnokot. Fizetésképtelen cégek, ha nincsenek csődben, nincsenek külön megjelölve. Ľannuaire contient: Page Dictionnaire des raisons sociales (papier blane).................... 913—1434 Index alphabétique des raisons sociales (papier blane)................ 817—887 Liste alphabétique des marchandises produites (papier gris-bleu) . 1440—1568 Liste alphabétique des lieux (papier rose)............................ 897—912 c Liste des abbréviations et explication des signes............................... 803 II est ä propos de servir de ľannuaire de la maniere suivante: Premiérement voyez la liste alphabétique des marchandises, consultez alors ľindex alphabétiqua fies raisons sociales et vous trouverez les pages cherchées. Le texte méme des raisons industrielles est généralement en italique, enregistrations en plusieures langues sont en parentheses. Le nőm du possesseur, ■étant égal ä la raison, est marqué de la lettre initiale. The Year-book contains: Directory (white paper) . . . ...........................................913—1434 Index of directory (white paper).......................... . 817—887 List of goods made with list of producers (gray-blue)............................. 1440—1568 List of places (reddish paper) ............................................... 897—912 c List of abbreviations aud explanation of signs ...... . . 803 Seeking producers of certain articles it is recommended to use the book as follows: First consult the alphabetic list of goods; then refer to the index of directory, where you will find the pages wanted. The wording of the industrial firms is printed in italics. The name of a firm possessor being of the same tenor as the firm is marked by the initial letter.