Compass. Finanzielles Jahrbuch 1925, Band IV: Österreich. - Page 2244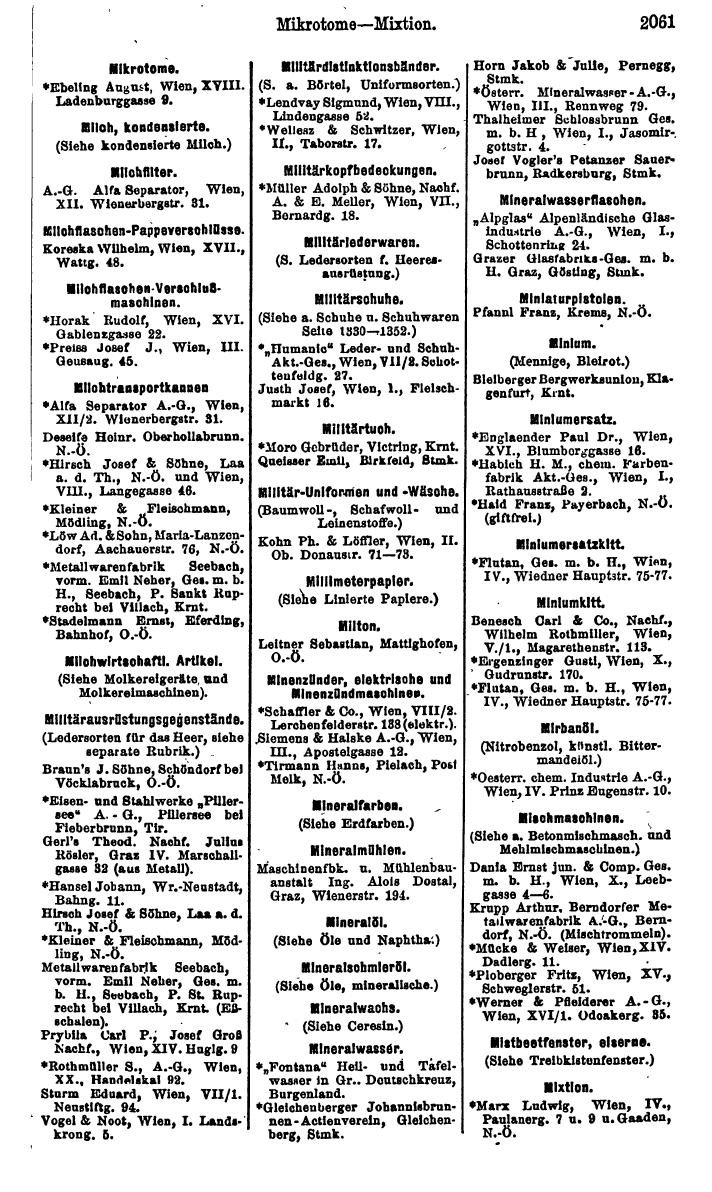 Book title
Compass. Finanzielles Jahrbuch 1925, Band IV: Österreich.
Book description
Informationen zu rd. 35.000 Industrie-, Handels- und Export-Unternehmen in Österreich nach 16 Hauptbranchen unterteilt sowie orts- und namensalphabetisch geordnet.
Consecutive pagination
2244
URN
urn:nbn:at:at-compass:zedhia-cpa_000056-1/fragment/virtuelleURNseite=cpa_000056-2244
Content
Mikrotome—Mixtion. 2061 Mikrotome. ♦Ebeling Augu:-t, Wien, XYIII. Ladeuburggasse 0. Milch, kondensierte. (Siehe kondensierte Milch.) Milchfllter. A.-G. Alfa Separator, Wien, XII. Wlonerbergstr. 31. Mllohfla80hen-PappeversohlOsse. Koreska Wilhelm, Wien, XVII., Wattg. 48. Mllohflasohen VersohluB- masohinen. ♦Ilorak Rudolf, Wien, XVI. Gablenzgasse 22. ♦Preise Josef J., Wien, III. Geusaug. 45. Mllohtran8portkannen ♦Alfa Separator A.-G., Wien, XII/2. Wlonerbergstr. 31. Deaeife Hoinr. Oberhollabrunn. N.-Ö. ♦Hirsch Josef & Söhne, Laa a. d. Th., N.-ö. and Wien, VIII., lmngegasse 46. ♦Kleiner & Fleischmann, Mödling, N.-Ö. ♦Löw Ad. &Sohn, Maria-Lanzendorf, Aachauerstr. 76, N.-Ö. ♦Metallwarenfabrik Seebach, vorm. Emil Neher, Ges. m. b. H., Seebach, P. Sankt Ruprecht bei Villach, Krnt. ♦Stadelmann Ernst, Eferding, Bahnhof, O.-Ö. Milchwirtschaft!. Artikel. (Siehe Molkereigeräte and Molkereimaschinen). Militärausrüstungsgegenstände. (Ledersorten für das Heer, siehe separate Rubrik.) Braun's J. Söhne, Schöndorf bei Vöcklabruck, O.-Ö. ♦Eisen- und Stahlwerke "Plller-see" A. - G., Pillersee bei Fieberbrunn, Tir. Gerl's Theod. Nachf. Julius Rosier, Graz IV. Marschall-gasse 32 (aus Metall). ♦Hansel Johann, Wr.-Neustadt, Bahug. 11. Hirsch Josef & Söhne, Laa a. d. Th., N.-Ö. ♦Kleiner & Fleischmann, Möd-liug, N.-Ö. Metallwarenfabrik Seebach, vorm. Emil Neher, Ges. m. b. H., Seebach, P. St. Ruprecht bei Villach, Krnt. (EU-schalen). Pryblla Carl P., Josef Groß Nachf., Wien, XIV. Huglg. 9 ♦Rothmüller S., A.-G., Wien, XX., Handelskal 92. Sturm Eduard, Wien, VII/1. Neustlftg. 94. Vogel & Noot, Wien, I. Lands-krong. 5. Militärdistinktionsbänder. (S. a. Börtel, Uniformsorten.) ♦Lendvay Sigmund, Wien, VHI., Lindengasse 52. ♦Wellesz & Schwitzer, Wien, II., Taborstr. 17. Militärkopfbedeokungen. ♦Müller Adolph & Söhne, Nachf. A. & E. Meller, Wion, VII., Bernardg. 18. Militärlederwaren. (S. Ledersorten f. Heerea-ausrüstung.) Militärsohuhe. (Siehe a. Schuhe it. Schuhwaren Seite 1330—1352.) ♦"Huraauic" Leder- und Schuh-Akt.-Ges., Wien, Vll/2. Schot-teufeldg. 27. Justh Josef, Wien, 1., Fleischmarkt 16. Militärtuch. ♦Moro Gebrüder, Victring, Krnt. tjueisser Emil, Birk teld, Stmk. Militär-Uniformen und -Wäsohe. (Baumwoll-, Scbafwoll- uud Loinenstotfe.) Kohn Ph. & Löffler, Wien, II. Ob. Donausir. 71—73. Millimeterpapier. (Siehe Linierte Papiere.) Milton. Lettner Sebastian, Mattlghofen, O.-Ö. MinenzUnder, elektrische und Mlnenzündmasohinen. ♦Schäffler & Co., Wien, VIII/2. Lerchen felderatr. 138(eloktr.). Siemens & Halske A.-G., Wien, IH., Apostelgasse 12. ♦Tirmann Hanns, Pielach, Post Molk, N.-ö. Mineralfarben. (Siehe Erdfarben.) Mineralmilhlen. Maschinenfbk. u. Mühlenbauanstalt Ing. Alois Dostal, Graz, Wienerstr. 194. Mineralöl. (Siehe Öle und Naphtha.) Mlneralsohmleröl. (Siebe Öle, mineralische.) Mineralwaohs. (Siehe Ceresin.) Mineralwasser. ♦"Fontana" Hell- und Tafelwasser in Gr.. Dcutschkreuz, Burgenland. ♦Gleichenberger Johannisbrunnen- Actienvereln, Gleichenberg, Stmk. Horn Jakob & Julie, Pernegg, Stmk. ♦Österr. Mineralwasser - A.-G., Wien, III., Rennweg 79-Thalheiuier Schlossbruun Ges. m. b. H , Wien, I., Jasomir-gottstr. 4. Joset Vogler's Petanzer Sauer-brunn, Radkersburg, Stmk. Mineralwasserflaschen. "Alpglas" Alpcnliiudische Glasindustrie A.-G., Wien, I., Schottenring 24. Grazer Glasfabriks-Ges. m. b. H. Graz, Gösting, Stmk. Miniaturpistolen. Pfannl Franz, Krems, N.-Ö. Minium. (Mennige, Bleirot.) Bleiberger BergwerkBunion, Klagenfurt, Kint. Miniumersatz. ♦Englacnder Paul Dr., Wien, XVI., Blumborggasse 16. ♦Habich H. M., ehem. Farbenfabrik Akt.-Ges., Wien, I., Rathausstraße 2. ♦Haid Franz, Payerbach, N.-Ö. (giftfrei.) Miniumersatzkitt. ♦Flutan, Ges. m. b. H., Wien, IV., Wiedner Hauptstr. 75-77. Miniumkitt. Benesch Carl & Co., Nachf., Wilhelm Rothmiller, Wien, V./l., Magarethenstr. 113. ♦Ergenzinger Gusti, Wien, X., Gudrun8tr. 170. ♦Flutan, Ges. m. b. H., Wien, IV., Wiedner Hauptstr. 75-77. Mirbanöl. (Nitrobenzol, könstl. Bittermandelöl.) ♦Oesterr. ehem. Industrie A.-G., Wien, IV. Prinz Eugenstr. 10. Mischmaschinen. (Siehe a. Betonmlschmascb. und Mehlmischmaschinen.) Dania Ernst jun. & Comp. Ges. m. b. H., Wien, X., Leeb-gasse 4—6. Krupp Arthur. Berndorfer Metallwarenfabrik A.-G., Berndorf, N.-Ö. (Mischtrommeln). ♦Mücke & Weiser, Wien,XIV. Dadlerg. 11. ♦Ploberger Fritz, Wien, XV., Schweglerstr. 51. ♦Werner & Pfleiderer A.-G., Wien, XVI/1. Odoakerg. 35. Mistbeetfenster, eiserne. (Siehe Treibkistenfenster.) Mlxtlon. ♦Marx Ludwig, Wien, IV., Paulauerg. 7 u. 9 u.Gaaden, N.-Ö.